Contractors Verification - GoQuotes
GoQuotes is committed to referring you to qualified renovation contractors in your neighbourhood using its strict certification criteria.
100% VERIFIED QUALITY
The legal standing of all our contractors is verified before they are recommended to you. We check that they have the required permits to operate their businesses, as well as for any complaints lodged with government authorities.
In addition, several of the contractors that we refer are 100% certified by GoQuotes, which means that we check their clients' satisfaction and their liability insurance coverage.
With our intelligent referral tool, the better a contractor is, the better are their chances of being referred to you to ensure your highest satisfaction.
DESCRIBE YOUR PROJECT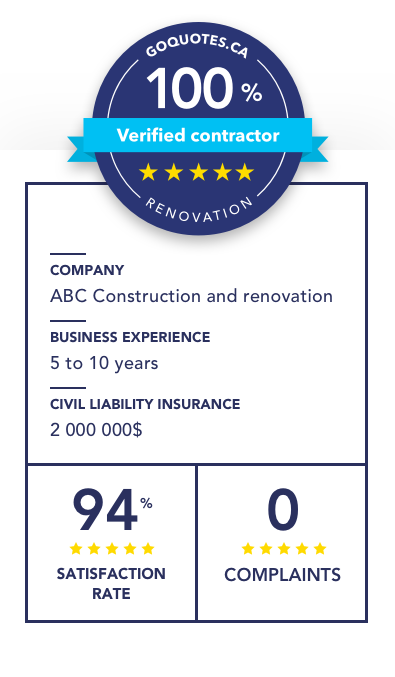 GOQOTES CERTIFICATION CRITERIA

COMPLIANCE AND COMPLAINTS
A certified contractor must be in compliance and hold the permits and licences required for carrying on their business. Complaints lodged with government authorities are also checked.

CLIENT SATISFACTION
The contractor's former clients fill out a survey about the quality of the work performed, the contractor's professionalism and after-sales service, and their general satisfaction. You'll also be surveyed after your project is completed.

BUSINESS EXPERIENCE
All of the businesses certified by GoQuotes have at least two years of experience, which means they've been legally constituted for a minimum of two years. If you hire a contractor with less experience, you should know that there are significant financial risks associated with a start-up business that's less than two years old.

INSURANCE
Any contractor with the GoQuotes certification must hold valid civil liability and professional liability insurance. This protects you in the event that their work results in damages or injuries.
GOQUOTES BENEFITS

100% VERIFIED QUALITY
We check the client satisfaction, experience, professionalism, compliance and insurance coverage of all contractors who have the GoQuotes certification.

FAIR PRICE
Compare several quotes from reliable contractors to get a fair price for your dream renovations!

SIMPLICITY
Simply share your project with us, and reliable contractors will contact you to give you their quotes.